Wednesday, October 30th 2019
Check Options Strategies With Backtesting
Backtesting is a good way to test options strategies interesting to you. Here we test short puts in single stocks.
Summary
Backtesting is a good way to test options strategies. A short put strategy from
You may see an options strategy with good returns. But how can you get more confidence in the results?
One way is to acquire the rules for the strategy or deduce the rules from the list of trades.
Here were the results posted: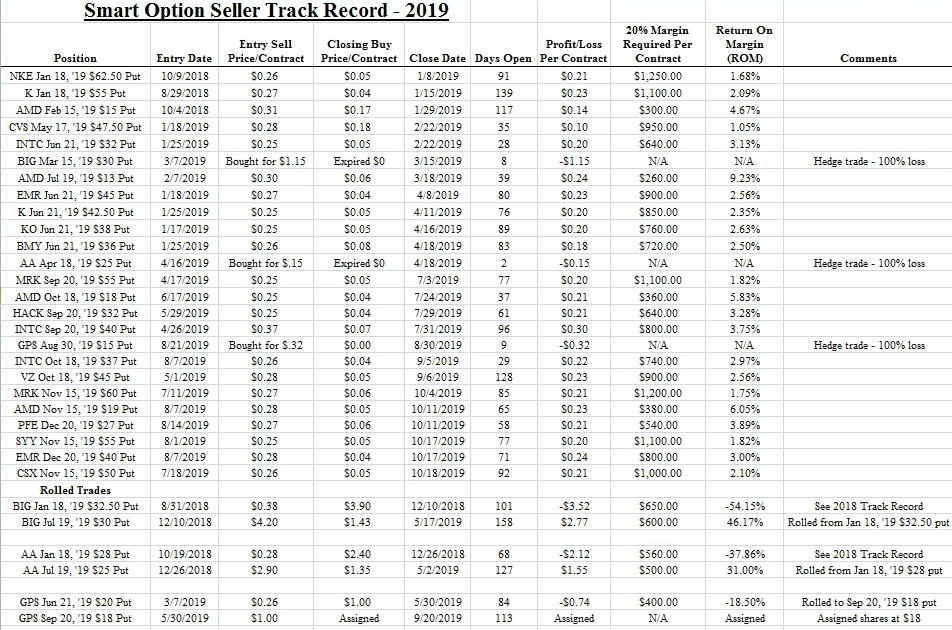 These results look pretty good. I can tell right off that he has some filtering of trades that he does not explain.
There is an interesting way he is rolling losses. When the loss reaches a certain amount he exits the original trade. It looks like he will find an option that has a similar premium to the one just exited. He is changing the rules for finding options when he is rolling. We do not have this feature in the online backtester (we do in the backtest API).
I did a quick backtest of the smartoptionseller.com strategy based on the trades record. I used the stocks listed in 2019, selling a put 100 days out with a delta of .05, minimum price of $0.20 and exiting when the price fell below $0.03 or when the loss was over 400%. Here are the results:

The results of my backtest we reasonably close to the results posted on the smartoptionseller site. 
I decided to test my version of this strategy. I tested some other rules and here's a good set I found:
Using the same symbols in the graphic above
Days to expiry 75 (a little shorter than smartoptionseller)
Delta of the short put 0.025 (farther out of the money)
I used a spread yield (option price / stock price) of -0.25%
Max ask price implied volatility of 50%

These results have better stats.