Dividend Hits Keep Coming: Implied Dividends Predict The Tale
Implied dividends have foreshadowed cuts by DIS WYNN and other firms. Using options prices to implied dividends ORATS presents a possible suspension list of companies.
Summary
Implied dividends, which measure the options market view on how much companies will pay going forward, have foreshadowed dividend cuts by companies such as Disney, Wynn Resorts, and Estee Lauder. ORATS presents a list of companies that may suspend their dividends based on their low implied dividends, including Grainger and Kohl's.
The implied dividends measure the options market view on how much companies will pay going forward. Embedded in options prices are a portion of forecast dividends traders think will be paid.
When the implied dividend falls to low levels, this behavior warns investors that the dividend level may fall.
Here's how the ORATS implied dividends watch looked last week: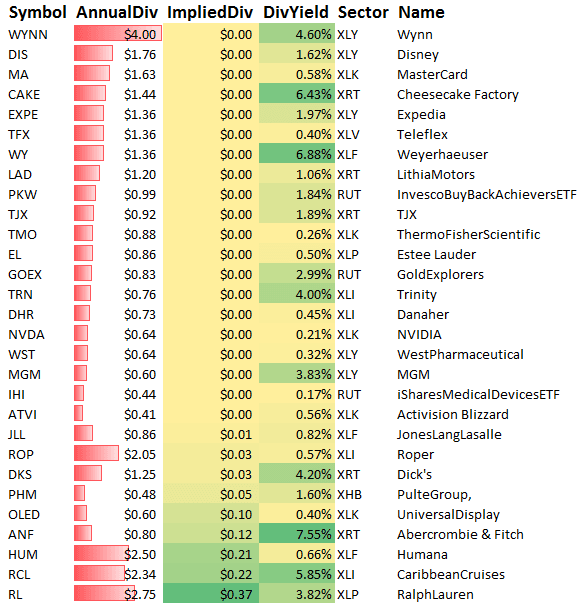 Wynn Resorts (WYNN) had an annualized dividend of $4.00 but their implied dividend was zero. WYNN subsequently suspended payment of their dividend. MGM cut its June dividend to 0.0025.
Disney announced it won't pay a dividend for the first half of its current fiscal year.
Estee Lauder announced it would be suspending its dividend for the next quarter. The dividend would have been paid in June.
TJX very quietly suspended its dividend for the near future. They put the suspend information in their annual report filing buried pretty deeply.
Dick's Sporting Goods announced it would be temporarily suspending its dividend.
To preserve liquidity, CAKE has suspended its dividend and stopped buying back stock.
Here's what the ORATS implied dividend suspension watch file looks like now: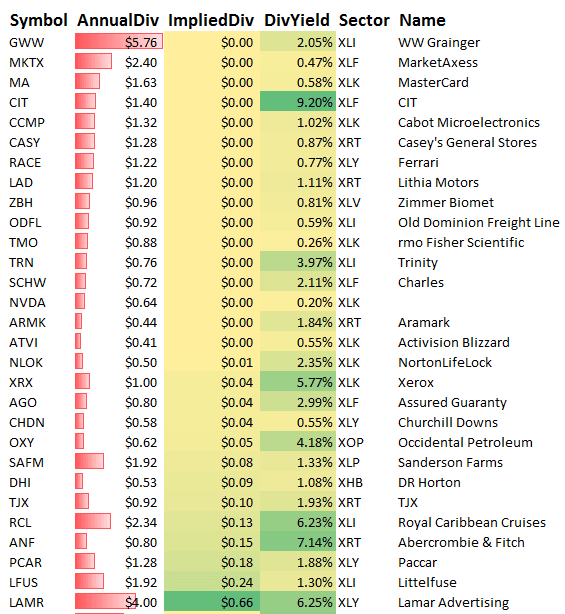 Many of these stocks could be next to cut.
Grainger (GWW) reported last Thursday and said it is suspending its financial guidance for the full year 2020 and pausing share repurchases given the uncertainties surrounding the ongoing coronavirus (COVID-19) pandemic. Is its dividend next?