Risky Dividends: Kohl's Suspends Dividend After Raising It In March, Others Will Follow
Kohl's dividend cut was precipitated by a falling implied dividend from options prices. Others like WYNN EXPE could follow.
Summary
Kohl's suspended its dividend after securing a $1.5 billion revolving line of credit with Wells Fargo, causing options investors to not be surprised by the cut. Other companies like WYNN, RCL, EXPE, ROST, AAP, TJX, MGM, and LEN are expected to have large cuts as well, according to the implied dividend in options prices.
Why would Kohl's (KSS) slash its dividend after raising it just two months ago, and why would the stock go up on the same day as the announcement?
These are strange times and this is a strange case.
Here's why: Yesterday Kohl's announced that is secured a $1.5 billion revolving line of credit with Wells Fargo and immediately drew down the entire amount. When it did that, it was forced to suspend the dividend because of covenants in the revolver.
Kohl's also announced a plan to reopen stores and said that some stores were already opened. KSS was up 7.5% yesterday.
Dividend shocks like this one can be especially painful to options holders because a high dividend like Kohl's pays has a large effect on the price of options. However, many options investors did not suffer from a surprise cut as the options market was expecting it.
ORATS tracks the implied dividend in the options prices. The chart of Kohl's annual implied dividend is below. Pre-covid the implied dividend was about where its dividend stood at $2. But starting after it raised and paid its dividend in early March, the implied dividend fell to where it is today about $0.50.

Kohl's is a component of the consumer discretionary SPDR XLY. The weighted average implied dividend for the components of XLY are shown below:

Components of the XLY have seen their implied dividends fall from pre-covid levels of $1.40 to $1.00 before rising to $1.15 recently.
Of the dividend payers in the XLY, Wynn Resorts (WYNN), Royal Caribbean Cruises (RCL), Expedia (EXPE), Ross Stores (ROST), Advance Auto Parts (AAP), TJX Companies (TJX), MGM Resorts (MGM), and Lennar (LEN) are expected to have large cuts like Kohl's. Below are the tickers in the XLY sorted by their annual dividend amount and shown with the expected cut implied by options prices.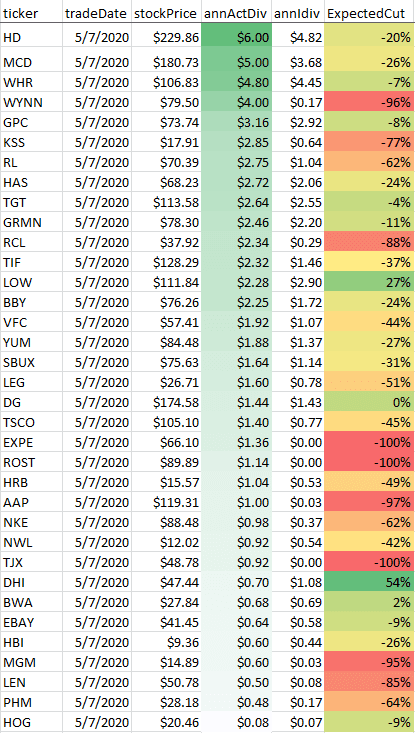 Expect the options market to foreshadow dividend cuts coming soon.