Traders Complain About Options Market Width: Here Are The Worst Offenders
ORATS publishes market bid ask width in implied volatility terms and compares the recent liquidity in the market tumult compared to before.
Summary
Traders have been complaining about the wide bid-ask spreads in options markets during the recent market downturn. ORATS has published a table of the worst offenders, with Citi having the widest spread at 9.9 points in implied volatility terms, 25 times wider than a week earlier. The S&P 500 Index (SPX) was also a point of concern, with the S&P 500 ETF (SPY) having a bid-ask spread 4.5 times wider than SPX. Data for this study comes from the ORATS data API.
We are hearing complaints from our clients about how wide the markets got on options bid ask spreads during the past few days of market meltdown.
On Friday, February 28th the market down about 3%, the market widths reached their apex. In the table below, we list the worst offenders that day ranked by change in market width in implied volatility points from February 20th, the day before the market started falling.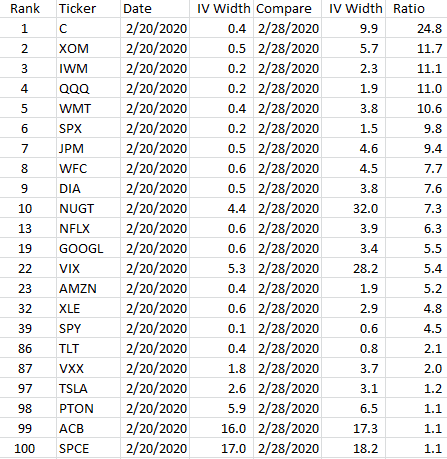 Citi (C) was the worst offender with the bid ask width in IV terms of 9.9 points which was nearly 25 times how wide they were, just 0.4 IV points wide, a week earlier. Exxon (XOM) was 12 times worse, Russell ETF (IWM) as 11 times as wide as was Nasdaq 100 ETF (QQQ) and Walmart (WMT), and SPX was 10 times as wide.
We heard particularly about the S&P 500 Index (SPX) and those traders had a point. The S&P 500 ETF (SPY) increased 4.5 times compared to SPX increasing 10 times the width.
Virgin Galactic (SPCE) was the best of the top 100 names by options volume up only 10% more than normal. Tesla (TSLA) markets were relatively good up only 20% more than normal.
Data used in this study comes from the ORATS data API. This data is available for subscription along with many hundreds more data points as described in the documentation here: https://docs.orats.io/datav2-api-guide/